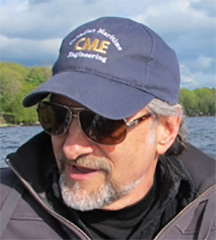 Peter Stephen Wing
is a life-long Niagara resident and has been creating art for over 50 years. His work is
anchored in realism and he has worked in the mediums of photography, sculpture, drawing, painting and installation. 
In his recent work, the visual dynamism and complexities of the natural world offer more than enough creative challenge to keep him occupied as a visual artist. His work has been described as "Representational and often depicts nature, yet there is preternatural quality that takes the viewer beyond the realism." 

He is also a graphic designer, writer and editor, and was instrumental in establishing the
Niagara Artists' Centre in St. Catharines. He has served on many boards and committees dealing
with art, cultural and heritage issues.